Brambila Method Review – Is Adrian Brambila Legit?
The Brambila Method is a fantastic beginner's course that will teach you everything you need to know to start making money online.
More than that, it teaches you how to make passive income, meaning that once you've done the initial leg work, you don't have to do anything to earn from the methods taught in the course.
However, this doesn't mean that you won't have to put in some effort, as it does take time and a good amount of elbow grease for the program to work effectively.
Adrian Brambila, a YouTuber, entrepreneur, and self-made millionaire, designed the Brambila Method to help marketers succeed in affiliate marketing without investing a lot of money upfront.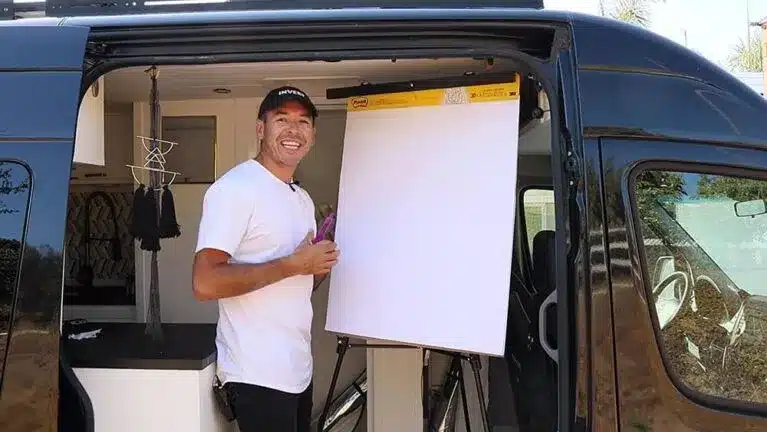 What is the Brambila Method 2.0?
The Brambila Method is a training program for newbie marketers and affiliate marketers who want to learn how to make money online.
The program covers all the different aspects of affiliate marketing and teaches you how to earn money from it.
You can use this method to build an online business empire or just make extra cash on the side while working full-time in your 9-5 job.
The Brambila Method 2.0 is the latest version of the original Brambila Method and according to Adrian Brambila, it is 100x better than the original Brambila Method.
It introduces the principles and practices of the art of persuasion, focusing on building your brand as an influencer in your industry.
The course teaches you how to build an online business by showing you how to sell products through affiliate marketing and social media marketing so that you can generate passive income while working part-time or even full-time as an entrepreneur.
Who is the Brambila Method Course For?
This program is designed for anyone who wants to build their own internet-based business or simply learn how to market their products or services online.
It is not just for newbies or those looking for ways of making money online through affiliate marketing or social media marketing but also for those who want guidance in creating an effective website for their business and tips on which software to use for creating a profitable website.
It is also for those who have tried other online marketing programs but failed because they did not have the proper guidance or knowledge on how to use them effectively.
What You'll Learn in the Brambila Method Course
The Brambila Method is a 10-day training program that teaches you five ways to make money online without investing any money first.
Adrian provides an overview and strategy, tactic, walkthrough, and case study videos to show how the method works. It also comes with an action plan that includes a checklist and step-by-step instructions on how to set up your business.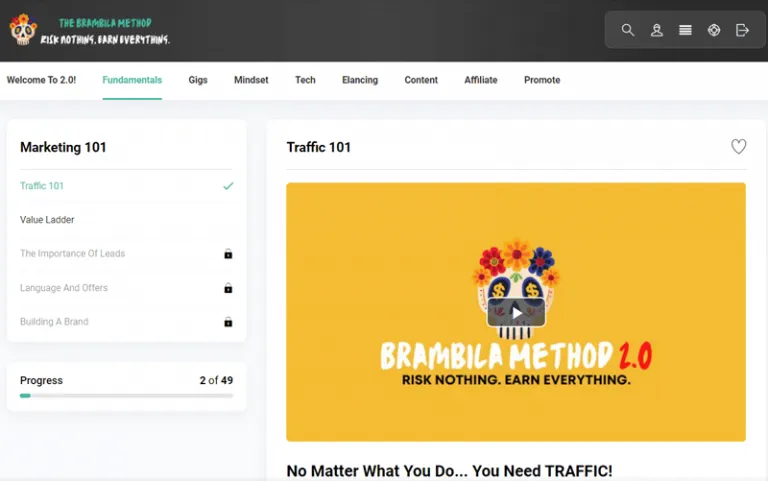 The course is divided into 8 modules:
Day 1: Selling Services on Fiverr
On the first day, you'll learn how to create a Fiverr gig and optimize it to maximize profits.
Adrian focuses on a few tweaks you can apply on your Fiverr gigs to collect buyer emails and gain repeat business.
You'll learn about "Value Ladder" and generate leads at this stage. Finally, Alex Fasulo shares tips and tricks to generate a 6 figure income from Fiverr.
Day 2: Sharing Your Knowledge on Course Marketplaces for a Passive Income
On your second day using the Brambila Method, you'll learn how to share knowledge on your expertise by creating under 1-hour videos and sharing them on course marketplaces such as Udemy and SkillShare.
Besides learning how to generate a passive income from your courses, you'll also learn how to promote affiliate products within your classes to supercharge your earnings.
Day 3: Get High-Paying Retainer Clients on Upwork
This is where you will use most of your energy, but it's also where you'll generate the most income, making the hassle worthwhile.
First, you'll learn how to send bids on freelancer marketplaces, such as UpWork, then pitch clients on a monthly retainer basis.
In this case, you focus on convincing clients to pay you an agreed monthly retainer after working with them for some time.
At this point, you'll learn:
How to get higher-paying clients, even if you're new to the freelancer game
How to negotiate the retainer price to get the best deal possible.
When done the right way, you don't have to worry about getting clients or finding new ones; you can focus on delivering results instead of wasting time marketing yourself. It is one of the best ways to make money online as a beginner because it doesn't require any experience or special skills.
However, it does take patience and persistence, but if you can learn how to do this effectively, it will be a massive boost for your business.
According to Adrian, this is the method he used to earn his first million online.
Day 4: Selling Idea Through Custom Merch Without an Inventory
This is your chance if you've ever dreamt of having fun and making money simultaneously.
At this stage, Adrian teaches about print-on-demand and selling merchandise without a starting capital or inventory.
The method is simple: you create a design and upload it to a print-on-demand site like Redbubble or Teespring.
Then, people can buy your design and have their items delivered to their doorstep. You don't need any inventory to create an idea and get paid for it.
The success of this stage largely depends on your creativity and your capability to leverage online trends to make money. If you do it right, you can easily create a passive source of income.
Module 5-8: Affiliate Marketing 101
In the last three days of the Adrian Brambila Method, you'll get a chance to learn all about affiliate marketing from someone who makes a killing from it.
He will teach you how to effectively choose a niche, promote your products, and leverage data and communities to get traffic. In addition, he also has a lot of offers that will help you get traffic to your site.
In addition to the tips, you'll learn the technical aspect of creating your online business, including buying a domain name, creating a landing page, and an email sequence.
Whether you're a newbie or an expert, the course assumes you do not know about affiliate marketing, hence walking you through all the steps via screen-share to ensure you follow along.
How much does Brambila Method cost?
The Brambila Method is subscription-based and costs $297 per year.
The course updates regularly, adding new learning materials and information, hence the subscription-based payment method.
The money-back guarantee allows you to cancel and get a full refund if you wish to discontinue. 
Adrian focuses on delivering quality to all his trainees by offering ongoing support through live Q&A sessions and a private Facebook Group.
As a result, the course is not open for enrollment throughout the year, and each enrollment cycle has limited spaces.
You, therefore, have to confirm availability to avoid missing a spot when you wish to enroll.
Brambila Method Pros & Cons
Is the Brambila Method a Scam or Legit Opportunity?
The 10-day training course by Adrian Brambila entails a great deal of hard work and effort. It is intense, and it will be difficult for you to get through without much dedication.
This is why the Brambila Method is so effective. If you're serious about succeeding with it, then it might be worth your while to invest in this program.
The Brambila Method is not a pyramid scheme because it does not require you to recruit others into the program to make money.
In fact, there are no fees involved with this method at all. Instead, you can only make money if you do nothing more than join the program and follow its basic steps.
However, it's important to note that most of the tactics offered in the course are more suitable for online side hustles than passive income models.
Nevertheless, those who vouch for the system put in the effort and invest time trying the provided tips and tricks.
Conclusion – is it worth your money?
The Brambila Method is absolutely worth the relatively low upfront cost of $297. If you're willing to put in the work, you will definitely see results very quickly.
Whether your want to create an online business, earn passive income, or supplement your current salary with profitable side hustles, the Brambila Method has something for you.
A good number of Adrian's students were able to book their first gigs within just a few days of starting the course, and numerous students have gone on to earn high 5-figure monthly incomes.
The course might not be for you if you are looking for an entirely passive income model. It does involve daily work and effort from your end. You must put in hours of hard work before seeing results.
I would say that the Brambila Method is best for those who have a 9-to-5 job and want to start a side hustle to generate extra income.