Blog Growth Engine Review: Is Adam Enfroy's Course Worth It?
This article is a thorough review of the course "Blog Growth Engine" by Adam Enfroy, a successful affiliate marketer and blogger. Enfroy made $1 million from his blog in less than two years. However, there is more to it.
Through his course Blog Growth Engine, Adam Enfroy teaches beginner marketers how to broaden their leverage at startup speed. That means you can twice the profit and run a successful blog making life-changing money in just a few months, not years. 
So, this course covers everything from niche selection to money-making blogs to producing traffic and monetizing it. Also, we'll tell you whether it is worth your time or money. Let's plunge into this blog growth engine review by Adam Enfroy.
What Is Blog Growth Engine?
Blog Growth Engine is an online affiliate marketing course that teaches us how to start, launch, and monetize a blog. The course focus on being a businessman, not a writer. Adam Enfroy defines that to be a successful businessman, you need to understand digital marketing and treat your blog as a business from start to end.
Adam Enfroy's Course is helpful for anyone, either beginner, an experienced, or a blog owner. The course has Blog monetization details to help beginners make money from the blogs after a few months of publishing.
Blog Growth Engine shows how to take advantage of Adam Enfroy's ideas and strategies to boost success for beginner bloggers and others in affiliate marketing. Enfroy's course is video-based with downloadable content and private Facebook community access.
Here is a quick outline of what you will learn in training:
Blogging: An in-depth guide that walks through the steps to create a successful blog.
The marketization of keywords: Instruct the use of affiliate marketing for blog monetization.
Blog development like a businessman: Adam Enfroy prepares you to make the mindset of a businessman as a blogger for generating income.
Who Is Adam Enfroy?
Adam Enfroy is the man who developed Blog Growth Engine. Up until recently, he worked for an eCommerce company as an affiliate manager. Soon, in 2019 he started making his own blogs to share specific and practical tips on how to make money online by blogging.
Thus, he could educate others to create successful blogs without writing. He left his job when he saw high income coming through blogging. So, he turned his blog into a business and in less than two years, had made over $1,000,000 with his blog.
Blog Growth Engine tells what efforts he done to earn success in blogging while coaching beginner marketers and entrepreneurs on the strategies to make blogging business more profitable.
Let's see what's exactly included in the Blog Growth Engine training course.
What Is Included In The Blog Growth Engine Course?
Blog Growth Engine is a thorough step-by-step program that assists you in making blogging a breeze. The course consists of 10 phases with user-friendly content. Also, most lessons are video-based.
You can ask questions and get answers from others through a private Facebook community. Most feedback is made by Adam and Colin via the loop. Also, customized answers help you see Adam's commitment to marketing and business.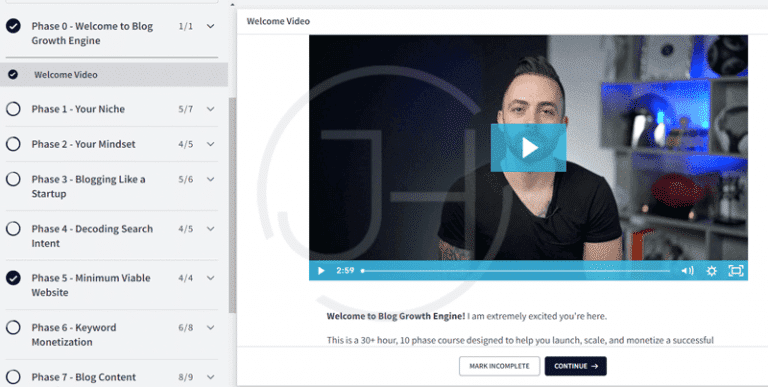 Let's dive into the modules and see what is included in the Blog Growth Engine Course.
Module 1 – Your Niche Selection
In module 1, you will learn about niche selection and brand building. Adam Enfroy teaches you about different topics, including advanced ways to create a niche site and why a beginner marketer should adopt these plans to want success in affiliate marketing. How to create an exclusive brand and approval of online commands.
Adam will tell you about his unique techniques to develop a brand's influence regardless of being a startup. Collin Shipp also helps you to identify your niches. The model teaches how to select a niche and make the personal brand profitable and running.
Niche selection is crucial to capsulize your marketing achievements to particular customers. So, promoting the services and products to a target market allows you to balance faster than trying to advertise everything to individuals one by one.
Module 2 – Mindset
In this module, you will learn how to overwhelm imposter syndrome, allowing you to monitor your success path. Adam, outline the glitches you want to eliminate during the beginning of blogging.
You will learn how to create blog content and overcome glitches. So, that is exactly what this module teaches you.
Module 3 – Blogging Like A Startup
In this module, Adam explains the difference between blogging as a business and as a hobby to make money. You will get to know how to use a minimal viable product for your blogging. Adam goes over how blogging has advanced over the years.
You will understand modern blog monetization strategies and how to take advantage of them to make money. So, this module explains how to treat your blogging as a business and scale it as a startup. This module is essential as it decides what to follow in other sections.
Module 4 – Decoding Search Intent
This module explains why search intent is vital in making money online; you will also learn how to match the customer's intent to build the business. Blog Engine Course covers all topics, including the importance of search engine working and intent in business.
Decoding search intent will help to acuminate content creation and keyword research processes. And you will be able to create content that replies to the customer's questions about their specific problems. So, learning how to create profitable content will award you to increase your revenue.
Module 5 – Minimum Viable Website
In this module, you will learn how to create a WordPress website for excellent performance and how to build it for your blog's development. You'll also learn to choose efficient hosting, theme, and pages or plugins.
Besides, Adam tells about the tools he uses for SEO, uploading posts, security, image optimization, catching, and maintaining the affiliate links on websites.
You'll understand how to create sales pages to convert arrivers into customers. So, this module helps you to create a minimum viable WordPress website, allows you to focus on the targets, and develop your blogs profitably.
Module 6 – Keyword Monetization
It is the big important part of Blog Growth Engine Review; you'll learn how to find keywords with profit. Keyword research is essential to make money online. You can enhance your affiliate marketing business with proper keyword research.
In this phase, Adam Enfroy's course reveals how to master keyword research to create effective contents that attract the audience. This module covers the following topics:
A step-by-step procedure to search valuable keywords
Taking advantage of competitor analysis to search keywords
The contrast in transactional and informational keywords
Module 7 – Blog Content Creation
The right content delivers enormous success in the super-competitive Cacophony. In this module of the Blog Growth Engine Course, Adam teaches how to enhance your blog content creation strategies. You'll understand how to write audience- and Google-friendly blog posts.
You'll learn the differences between pillar and fluff content and how to create a solid content assembly line. Adam Enfroy also reveals the use of Jasper.ai for the extent of content creation and Surfer Seo for Seo-friendly content.
You'll also understand how to deliberate content ideas, create a publishing plan, and write contrasted posts.
Module 8 – Link Building
Link building is a major part of marketing plans and SEO. An excellent link-building campaign allows the search engine to find new affiliate marketing website pages and decide which page to rank top in SERPs.
Also, many blogger businesses overlook link building. Finally, Blog Growth Engine teaches you how to do link building to grow your website.
In this module, Adam Enfroy discusses how to create link-building through backlinks and guest posting. Also, he covers the advanced link-building methods to analyze significantly. You'll discover how to increase your audience and how to make a decision for a website guest post.
He also shares guest post tips to attract users to your site and boost your brand campaign. Watch the Masterclass. 
Module 9 – Affiliate Marketing and Blog Monetization
This part of Adam Enfroy Blog, Growth Engine Review, is interesting. This module reveals the fundamentals of affiliate marketing and figuring out your blog monetization right.
Furthermore, Blog Growth Engine recently released an update about making money through different monetization strategies. This phase is titled next-level optimization, and you'll learn how to run a YouTube channel, use CPA deals and Ad networks, and brand Partnerships.
This way, you can broaden your income streams rather than affiliate networks. So, now you understand that's a business blogging course, not a hobby blog.
Module 10 – Scaling and Outsourcing
Outsourcing can make your blog business cost-effective, developed, and advanced. Adam Enfroy Course teaches how to appoint and outsource quality talent for business. You'll know what time is suitable to scale your blog and how to find top-talent writers to grow your blog traffic.
You'll also get to know about project management software, the type of tasks, and appointing "A" players. This module is perfect if you already run after other social media channels to make money, such as YouTube Channel.
Module 11 – Monetizing Your Skills with Services
This module reveals how to create a highly profitable blog by selling different marketing packages. This lesson was made by Collin Shipp and Jessica, where they explained how to make money faster by getting other blogs' high-quality links. Also, you'll understand how to make money with other freelance writers and more.
You'll learn the following topics in module 11:
Monetizing your blog through services
Tools for a profitable content writing business
Making money by selling links and freelance writing
Development of legislation and invoices
Innovative email marketing plans for guest posting
Blog Growth Engine users can also approach a private link exchange slack section only available to BGE members with the new 2.0 and 3.0 versions. The link exchange slack section is the same one that Adam uses to build guest posts and indirect links.
Blog Growth Engine Bonuses
Blog Growth Engine offers various benefits to get the most out of the phases discussed above. Here you will receive the following bonuses:
Individual Coaching and Support
You can approach unlimited coaching in the Blog Growth Engine member area. You'll get individual training with Adam's team members. It is a game changer as it allows you to get excellent support, explore the community, and help with your particular obligations.
Besides, you'll satisfy with getting the right replies from the Blog Growth Engine team. So, one-to-one coaching and support have great value.
Templates and SOPs (Standard Operating Procedures)
Blog Growth Engine offers ready-made templates to save you time on blog development. Here are the following pre-designed templates:
Authority flywheel exercise
Timeline to freedom
Startup content blueprint
Blogging master spreadsheet
Blog posts (Beneficial for listicles)
Guest post outreach
Moreover, these templates have been optimized for SEO and conversions.
Facebook Group Community and Regular Live Q&As
Adam Enfroy Course gives you access to a private Facebook community to interact and connect with previous or existing students. You can cooperate with 1500 active members in the Facebook group to create helpful tips to enhance the business.
Adam and Collin manage live QA, and you'll get all your questions right answered. If you do not have any questions, you can listen to other members that how they pick valuable points to plan the business. So, you can get help from anyone whenever you need it.
Blog Growth Engine Feedback
You might think did other students succeed with Blog Growth Engine?
There is much positive feedback on student success in the Facebook community. Here are a few testimonials to give you an idea:
Watch Adam Enfroy's free Masterclass, where you will learn how to start a profitable blog in months, how Adam was able to make $1 million in less than two years, and how blogging as a business works in the 2020s.
How Much Does Blog Growth Engine Cost?
Normally, Blog Growth Engine costs $2997, but if you watch the free Masterclass, you can get it for $1497. The offer ends after a few days of taking the free Masterclass, so be sure to sign up to get the discount. So, investing in this blogging course is one of the best contributions.
It is also possible to buy the course in two or three monthly installments. You have an approach to the same content in each option; only the price varies. Also, take advantage of the discount; the longer you wait, the higher the price.
Refund Policy
It is easy to refund with Adam Enfroy Course. A refund can be requested within 14 days by contacting Collin or any team member.
Yes, I'm ready for Blog Growth Engine
Advantages and Disadvantages of Blog Growth Engine
A review is incomplete without advantages and disadvantages, and this Blog Growth Engine review is the same. So, here are the advantages and disadvantages of the Adam Enfroy Course:
Advantages
The real deal: This course is free of fluff and hype that would not get you anywhere. You will learn all the accurate techniques to grow blogs and build a valuable blogging business that Adam Enfroy uses to make 500K visitors per month and a monthly $90000 income.
Highly comprehensive: This intensive course contains all blogging details. This course is for you if you want to learn from a blogging expert and want a full brain dump.
High content: You'll learn so many things from this course. The content is excellent, the production value is stellar, and Adam Enfroy shows great passion. You'll understand real-world campaigns and strategies for the implementation of business. Also, you cannot find this type of content anywhere else.
For everyone: This course is for everyone, whether you are a beginner with no site and experienced or a successful businessman.
Special bonuses: You'll also get bonuses with the videos and blogging program in the course. You'll get an approach to the bonuses, such as an active Facebook community group full of successful bloggers. You can ask any questions or take help from these experienced bloggers.
Disadvantages
Costly: Adam Enfroy's course is exclusive and not cheap. While you will definitely get what you pay for, it can be a major expense for some.
Limited reviews: Despite this, Adam is very clear with his methods and blogging business because Blog Growth Engine is a brand-new course, and it's challenging to find actual user reviews. So, you have to do your own research.
Check out Adam Enfroy Course Now
Is Blog Growth Engine Worth It?
Yes, Blog Growth Engine is highly informative, which make it one of the best blogging course for a budget. The best about this course is that it is regularly updated to lay out advanced strategies and tactics for building a profitable and successful blog.
So, when you think about the course in-depth, we confidently say it is definitely worth the money. Well, the price is low in contrast to the course's value.
FAQs
Is Blog Growth Engine for a complete beginner?
Yes, the Blog Growth Engine is developed to advantage beginner marketers and skillful bloggers. For a beginner, the course will discuss blogging fundamentals and how to make money by blogging. 
It will also introduce how to create a WordPress site and what tools are needed. This course will train you to write such posts that attract clients.
And when you make enough money from blogging, Adam Enfroy Course will teach you outsourcing, freeing up more time to scale your business.
Is Blog Growth Engine legit?
Yes, Blog Growth Engine is legitimate. The Huffington Post, Forbes, and Entrepreneur have all featured Adam's work. Adam Enfroy is also popular as an online content creator and blogger. And has a YouTube channel where he provides amazing lessons. 
Who is Blog Growth Engine for?
Beginner marketers to advanced bloggers can benefit from Blog Growth Engine. If you have blogging knowledge but want to know how to make a blog successful, Adam Enfroy Course is perfect for you. 
Also, this course is not for anyone who wants to get rich quickly rather than learn it for business. So, if you are a beginner, we'd recommend checking out Adam Enfroy's course.
Is this course not taught about building a website?
No, that's not the reality. Blog Growth Engine teaches step by step on how to build a website from scrape. 
Does Blog Growth Engine offer a discount?
Yes, you can purchase the course for $1497 if you watch the free Masterclass. It is a great deal because the actual price is $2997. Sign up below to watch the free Masterclass and get the discount. Sign up
Does Adam Enfroy Course teach red hat SEO, Grey hat SEO, or White hat SEO strategies?
Adam Enfroy Course only teaches white-hat SEO techniques. 
Conclusion of Blog Growth Engine Review
We highly recommend Adam Enfroy Course Blog Growth Engine if you want an in-depth course for affiliate marketing and blogging. You will learn not only how to create your website ranking but also SEO techniques and keyword research strategies that play a vital role in blogging or affiliate marketing.
This course will enable you to launch a profitable website to become a successful blogger. Moreover, the Facebook community section is outstanding. You can get help from other team members and get feedback on your planning and work.
Blog Growth Engine is easy to understand and offers actionable strategies to leverage your business. All you have to do is devote time. So, advance your blog or affiliate marketing skills by joining Blog Growth Engine today!