The Best Jasper AI Alternatives for 2023 (Free & Paid)
If you're on the lookout for an ideal AI writing tool, you've come to the right place.
Although Jasper AI has been quite popular, it's always good to be aware of some fantastic alternatives in the content creation landscape.
So, let's dive into the world of Jasper AI alternatives to find the one that suits your needs the best!
Why Consider Jasper AI Alternatives?
You might wonder, "If Jasper AI is already good, why should I explore alternatives?"
Well, different requirements call for different solutions.
We all have unique preferences when it comes to content creation, such as specific features, budget considerations, or ease of use.
By examining these Jasper AI alternatives, you're more likely to find the perfect match to elevate your content creation process.
Don't remember what Jasper AI does? Read my full in-depth review of Jasper AI here.
Top Jasper AI Alternatives for 2023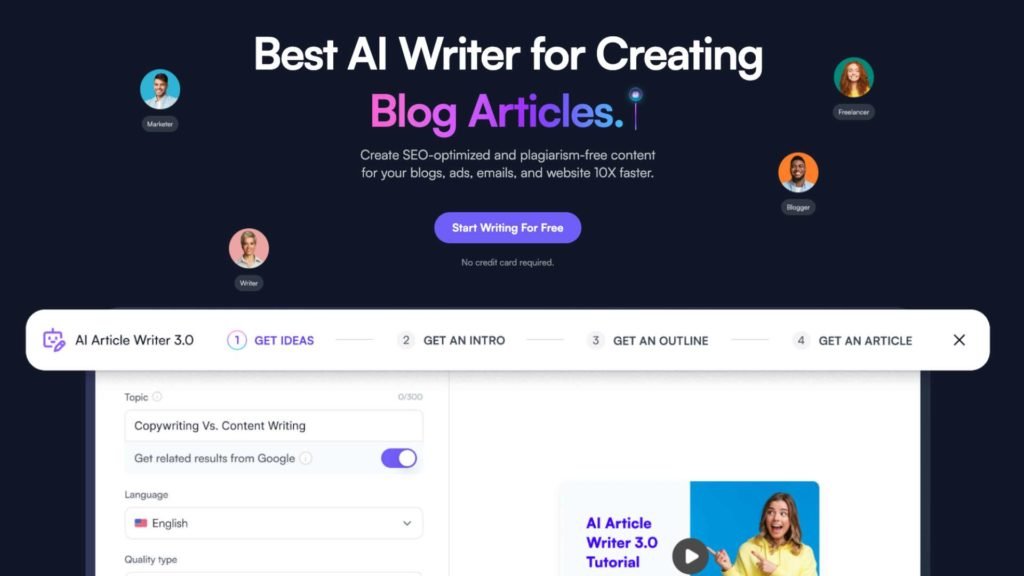 Writesonic is an AI writing tool designed to help users create high-quality content in a short amount of time and is one of the best Jasper AI alternatives on the market.
Focusing on user-friendliness and a vast selection of templates, Writesonic is an excellent choice for content creators who want an easy-to-use platform capable of generating a wide range of content types, from blog posts to social media updates.
Key Features:
Uses GPT-4 technology on all paid plans
An extensive library of templates for various content types
A user-friendly dashboard for easy content management
Integration with tools like SurferSEO for optimized content
Writesonic pricing:
Free Plan: Limited access to features and 10 AI-generated articles per month
Starter Plan: $11.60/month, which includes 75 AI-generated articles per month and access to basic features
Professional Plan: $39.60/month, offering unlimited AI-generated articles, premium features, and priority support
Conversion.ai is a powerful AI writing tool that harnesses OpenAI's GPT-3 technology to generate high-quality content quickly and efficiently.
Catering to various users, from bloggers and marketers to entrepreneurs and agencies, Conversion.ai simplifies content creation with an intuitive interface and an extensive selection of templates.
Key Features:
Long-form content generation for articles and blog posts
A wide variety of templates for different content types
User-friendly interface with easy navigation
Integration with third-party tools like SurferSEO
Conversion.ai is pricing:
Starter Plan: $29/month, including 20,000 words per month and access to 50+ templates
Pro Plan: $109/month, offering unlimited words per month, long-form content generation, and priority support
Enterprise Plan: Custom pricing tailored to the needs of large businesses and organizations
Copy.ai is an AI-powered copywriting platform aiming to streamline content creation for businesses and individuals.
With a wide range of templates and a collaborative workspace, Copy.ai enables users to create engaging copy for various content types, such as website copy, product descriptions, and ad copy.
The platform's collaborative copy feature makes it perfect for teams working together on content creation.
Key Features:
A diverse selection of templates for different content types
Collaborative Copy feature for team-based projects
Integration with popular applications like Grammarly
A user-friendly dashboard for easy content management
Copy.ai pricing:
Solo Plan: $35/month, providing unlimited content generation and access to all templates
Business Plan: $99/month, which includes all Solo plan features plus team collaboration, priority support, and a dedicated account manager
Nichesss is an AI-powered content generation platform specializing in providing users with unique content ideas and strategies.
Focusing on helping users discover niche markets and create targeted content, Nichesss is an excellent choice for entrepreneurs and marketers looking to explore new opportunities and create engaging content for their audience.
Key Features:
AI-generated content ideas and strategies for various platforms
A unique "Niche Laboratory" to help users discover untapped markets
A simple and intuitive user interface for seamless content creation
Integration with popular tools like Google Drive and Trello for efficient content management
Nichesss pricing:
Pay-As-You-Go Plan: $19 for 50 AI-generated content pieces, allowing users to pay only for what they need
Unlimited Plan: $39/month, which includes unlimited AI-generated content, access to all features, and priority support
Wordtune is an AI-powered writing assistant that helps users improve their writing by providing real-time suggestions and rephrasing options.
Focusing on enhancing clarity, fluency, and style, Wordtune is an excellent choice for content creators looking to elevate their writing and create more engaging content.
Key Features:
AI-generated rephrasing suggestions for improved clarity and fluency
Real-time writing assistance with context-aware suggestions
A browser extension for seamless integration with online writing platforms
Customizable settings to cater to users' unique writing preferences
Wordtune pricing:
Free Plan: Access to basic rephrasing suggestions and a limited number of AI-generated rewrites
Premium Plan: $9.99/month (billed annually) or $24.99/month (billed monthly), offering unlimited AI-generated rewrites, advanced rephrasing options, and priority support
What to Look for in a Jasper AI Alternative?
Pricing and affordability:
Let's face it, budget matters. We all have different wallets, and that's okay!
Check out the pricing plans offered by each AI writing tool, and make sure they align with what you're willing to spend.
Look for Jasper AI alternatives that offer free trials or free tiers, so you can give the platform a test drive before diving in with your hard-earned cash.
Features and capabilities:
We all have different content creation needs, and that's where AI writing tools can really shine.
Examine the bells and whistles each platform offers, like templates, language support, and content types.
Be sure the alternative you choose packs a punch with the features that matter most to you.
Ease of use and user interface:
Nobody wants to wrestle with a clunky, confusing interface.
Life's too short for that!
Find an AI writing tool with a user-friendly interface that makes content creation a breeze, so you can focus on the fun stuff.
Integrations and API support:
We all have our favorite tools, and it's essential that your AI writing tool plays well with others.
The best Jasper AI alternatives are platforms that integrate seamlessly with popular applications like Google Drive, Grammarly, or Surfer SEO.
Bonus points if they offer API support for more advanced customization and integration options.
Customer support and community:
When you hit a snag or need a helping hand, it's great to know you're not alone.
Seek out Jasper AI alternatives and writing tools with robust customer support and an active user community.
This way, you'll have a wealth of resources at your fingertips, so you can get back to creating amazing content in no time.
Conclusion
The best Jasper AI alternatives for you will depend on your unique needs, budget, and preferences.
By exploring these alternatives, you can find a tool that better suits your requirements and helps you create engaging content more efficiently.
Remember to consider the features, pricing, ease of use, integration, and support offered by each platform before making your decision.
FAQs
Do all Jasper AI alternatives use GPT-3 technology?
Not all Jasper AI alternatives use GPT-3 technology, but many do. Some platforms like Writesonic already use GPT-4 while others might use other AI algorithms or technologies for content generation.
Can I try these Jasper AI alternatives for free?
Many Jasper AI alternatives offer free trials or free plans with limited features. This allows you to test the platform before committing to a paid plan.
Are AI-generated content and suggestions always accurate and reliable?
While AI-generated content can be of high quality, it's essential to review and edit the output to ensure accuracy and maintain your unique voice.
How do these AI writing tools ensure unique content?
AI writing tools use complex algorithms and natural language processing to generate content based on the input provided by users.
However, it's always good practice to check the content for originality using plagiarism checkers to ensure that your content is unique and free from duplication.
Can I use multiple AI writing tools simultaneously?
Yes, you can use multiple AI writing tools simultaneously to take advantage of different features and capabilities. Combining the strengths of various tools can help you create diverse and engaging content.