Smart Affiliate Business Review: Transform Your Affiliate Marketing Game in 2023
Are you ready to finally take your affiliate marketing business to new heights while enjoying unparalleled time freedom?
Discover the secrets to building a thriving, scalable affiliate marketing empire with the Smart Affiliate Business.
This advanced course, created by the van life millionaire Adrian Brambila, is designed to teach you everything you need to know about creating a successful affiliate marketing business that operates efficiently without consuming all your time.
Dive into our comprehensive review to learn how this masterclass can revolutionize your affiliate marketing journey and unleash your full potential.
Who is Adrian Brambila – The Van Life Millionaire?
Adrian Brambila, the founder of this masterclass, has an impressive track record, having sold over $50M as an affiliate since 2018.
Brambila gained fame during the pandemic shutdown when he went viral on TikTok, showcasing his minimalist millionaire lifestyle and earning around $110K per month through affiliate marketing.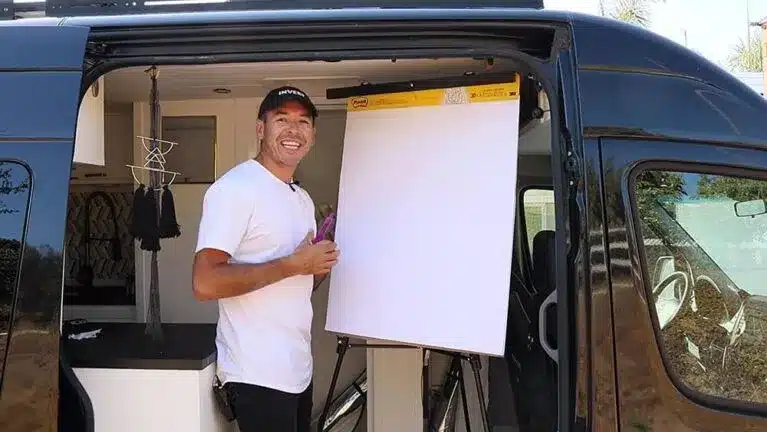 Unlike many others, he achieved his success by promoting physical products that he was proud to support, steering clear of MLMs or shady schemes.
"Affiliate marketing has a bad reputation," Adrian writes on his website. "I'm trying to fix it by teaching people just like YOU how to do it the RIGHT way. No tricks, no gimmicks, no dm-ing people! I teach how you to promote products and companies YOU believe in!"
Who is Smart Affiliate Business For?
The Smart Affiliate Business masterclass is designed for intermediate and advanced marketers and covers various aspects of affiliate marketing, from researching niches and offers to implementing automation for time freedom.
What You Will Learn in Smart Affiliate Business
Smart Affiliate Business is structured into different modules, each of which covers a different aspect of what you need to know to run a highly successful affiliate business.
In addition to the modules below, the program has 30+ PDFs and Sheets that help you calculate, test, scale, and conquer all the challenges of affiliate marketing.
Introduction
Affiliate Marketing 101: Understand the basics of affiliate marketing
How It Works: Learn the mechanics of affiliate marketing and how to make money from it
The Good, The Bad, The Ugly: Explore the Pros and Cons of affiliate marketing
The Opportunity of a Lifetime: Discover why affiliate marketing is a unique and lucrative opportunity
Research
Finding the Best Niches: Identify profitable niches to focus on
Finding the Best Programs: Learn how to choose the right affiliate programs to join
Finding the Best Offers: Select the most lucrative offers to promote
Finding the Best YOU: Uncover your strengths and how to leverage them in your affiliate marketing business
Analytics
Crash Course in Data: Get a quick overview of essential data analysis concepts
What Numbers Actually Matter: Learn the key metrics you should be tracking
Making Data-Driven Decisions: Understand how to use data to make informed decisions
CPC, CTR, CPA, CPL, Peepee: Familiarize yourself with important industry acronyms
Building a Brand
Building a 'Flexible' Brand: Create a brand that can adapt and grow with your business
When to Niche & Not: Determine when it's beneficial to focus on a specific niche
Logos, Ethos & Tacos: Explore the components of a strong brand identity
Intent, Persona & Exit: Learn how to develop a brand strategy that resonates with your target audience
Funnels
A/B Testing: Master the art of testing and optimizing your funnels
Offer Science: Delve into the psychology behind crafting irresistible offers
Lead Rapture: Learn how to capture and nurture leads effectively
Organic Traffic
Content Strategy: Develop a plan to attract organic traffic through high-quality content
Aggressive Content Scale: Learn how to scale your content production and reach
The Opportunity: Discover the potential of organic traffic for your affiliate marketing business
Paid Traffic
TikTok, Facebook, YouTube, Instagram, Google: Learn how to run paid ads on popular platforms
Test, Scale & Optimize: Master the process of testing, scaling, and optimizing your paid advertising campaigns
Testing
Simple Effective Fast Offer Tests: Learn how to quickly test and validate offers
Testing Initial & Backend Offers: Discover how to optimize both front-end and back-end offers
Different Levels of Optimization: Explore various optimization strategies for your affiliate marketing business
Scaling
Scale Small or Big: Choose the right approach to scaling your business based on your goals
Programmatic Ad Budgeting: Learn how to allocate your advertising budget effectively
How to Not Lose Money: Discover strategies to protect your profits while scaling
Emails
Press Click Make Money: Learn how to monetize your email list effectively
How to Communicate: Master the art of crafting compelling email messages
Welcome Sequence: Create a powerful email welcome sequence to engage new subscribers
Segmentation & Drip: Learn how to segment your list and set up automated drip campaigns
Automation
Artificial Intelligence: Explore the role of AI in automating your affiliate marketing business
Outsourcing: Discover how to delegate tasks and free up more time for yourself
Play Pickleball +20 Hours a Week: Enjoy the time freedom that comes with a well-automated business
Lifetime Access to Action-Packed Video Lessons
The Smart Affiliate Business Masterclass provides lifetime access to over 50 action-packed video lessons, ensuring you have all the knowledge you need to build a thriving affiliate marketing business.
BONUS
After SAB launches, Adrian will hold a number of live training sessions that will be recorded and made available as a bonus for more Q&A.
Here is the live training schedule:
April 27th, 9am-10AM CST
Module 1: Affiliate Marketing 101
Module 2: Building a Brand
Module 3: Affiliate Programs & Research
May 1st, 4 pm CST
Module 4: Generating Traffic
Module 5: Leads
Module 6: Evolutions of Affiliate Marketing
May 4th, 9 am CST
Module 7: Outsourcing & Automation
Module 8: Analytics
Module 9: Funnels
Module 10: Outro
Pricing and Exclusive Bonuses
Smart Affiliate Business is currently available at a special pre-order price of $1,497, after which it will increase to $3,997.
This investment provides you with lifetime access to the extensive masterclass, including over 50 action-packed video lessons and more than 30 PDFs and sheets to help you conquer the challenges of affiliate marketing.
SAB comes with a 14-day, no-questions-asked refund policy.
As an added bonus, the first 100 people who purchase the course will receive Adrian's Affiliate Manuscript Book absolutely FREE.
(Edit: the manuscript book has already sold out)

This exclusive resource contains never-before-published secrets, play-by-play ad strategies, unshared lessons, tools, and resources that Adrian used to manage over 500 affiliate offers.
You'll also learn how he automated his business to generate $1.7M while living in a van with Wi-Fi just one day a week and reach a net worth of over $4 million.
FAQs
Is the Smart Affiliate Business suitable for beginners?
This masterclass is tailored towards intermediate and advanced marketers. If you are a beginner, Adrian Brambila recommends taking his beginner course, The Brambila Method, as a prerequisite.
What platforms are covered in the paid ads section of the course?
The paid ads section covers TikTok, Facebook, Instagram, YouTube, and Google.
How is the course material presented?
Smart Affiliate Business consists of over 50 action-packed video lessons, along with 30+ PDFs and sheets to help you conquer the challenges of affiliate marketing.
Is there any support provided after completing the course?
The course provides lifetime access to video lessons and materials, ensuring you have the resources you need to succeed in your affiliate marketing journey.
When does the Smart Affiliate Business course launch?
SAB is set to launch on April 15, 2023.
Why was the Smart Affiliate Business launch delayed?
According to Adrian himself, just before launching the course, he discovered that the audio of the first 20 videos was compromised. This meant he has to reshoot those videos. Therefore, the launch of SAB was pushed back to April 24, 2023.